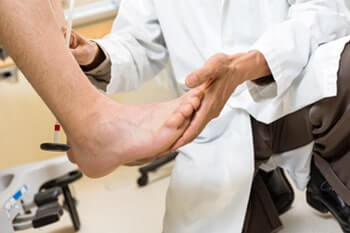 A podiatrist is a medical professional who specializes in the diagnosis and treatment of foot and ankle problems. These doctors will have "DPM" (Doctor of Podiatric Medicine) listed after their names. Some podiatrists specialize in treating pediatric, adult, or geriatric foot problems. Others may be podiatric surgeons that specialize in performing foot and ankle surgeries. Podiatrists practice in a wide range of settings including their own offices, hospitals, health clinics, nursing homes, and rehabilitation facilities.
A podiatrist can treat most ailments that affect the feet and ankles. These include injuries, such as broken toes and sprained ankles, deformities like bunions or hammertoes, and systemic conditions that affect the lower limbs, such as diabetes and arthritis. A podiatrist can also treat foot warts, athlete's foot, ingrown toenails and toenail fungus, among many other conditions.
You should seek the care of a podiatrist if you experience any foot or ankle pain, have injured your lower limbs, have diabetes, peripheral neuropathy, peripheral artery disease, or poor circulation, or notice any irregularities in your feet or ankles, such as swelling, bruising, discoloration, rashes, cuts, scrapes, sores, wounds, or strange sensations such as tingling, burning, itchiness, or numbness.
If you have any foot or ankle problems, please see a podiatrist near you.